Welcome to Village Sampler
Village Sampler is one of two cross stitch and needlework shops in West Virginia. It is filled from floor to ceiling with charts, threads, fabric, printed embroidery canvasses, and accessories.
The shop is located in the old downtown area of St.Albans, West Virginia on the recently refurbished Main Street. St.Albans is a small town just 15 miles west of the state capital, Charleston, which is the hub of 3 Interstates --- I-64, I-77 and I-79. Ironically, our little town is not on the beaten interstate path. Rather it sits along side the former major east-west route of US Route 60 between Charleston and Huntington and points beyond.
For those who love counted cross stitch with bits of other needle arts included, Village Sampler is worth the trip. The shop was established in 1987 and has the merchandise and experience to go with that many years in business. It offers lots of custom services like special orders, creating custom kits, assistance with graphing changes or verses, help with difficult charts or stitches, and, of course, custom framing of all sorts.
Feel free to email or call us with anything you have questions about and can't find on our website.
Thanks for visiting ....
Hours of Operation
Tuesday, Wednesday & Friday * 11 to 5 ~ at least
Thursday * 11 to 8 PM
Saturday * 11 to 3 ~ at least
Closed on Sunday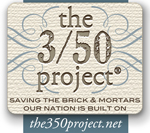 Take a virtual tour of the shop